Though the need for safe blood is universal, still, access to safe blood is still a privilege for most low- and middle-income countries where they struggle to make safe blood available. Global data represents that 42% of blood is collected in high-income countries, which are home to only 16% of the world's population.
This requirement of an adequate supply of safe blood can only be assured through regular donations by voluntary unpaid blood donors.
So, the World Health Assembly in 2005 designated June 14 of every year as World Blood Donor Day to thank blood donors, encourage more people to give blood freely and also to awareness about the global need for safe blood and how everyone can contribute.
The campaign theme for World Blood Donor Day, 2020 is "Safe blood saves lives" with the slogan "Give blood and make the world a healthier place".
Though different campaigns are continually run by concerned organizations about the importance of blood donation, through this June 14 campaign, WHO calls on more people from all over the world to become life-savers by volunteering to donate blood regularly.
WHO also aims to ensure that all individuals and communities have access to affordable and timely supplies of safe and quality-assured blood and blood products which is an integral part of universal health coverage and a key component of effective health systems.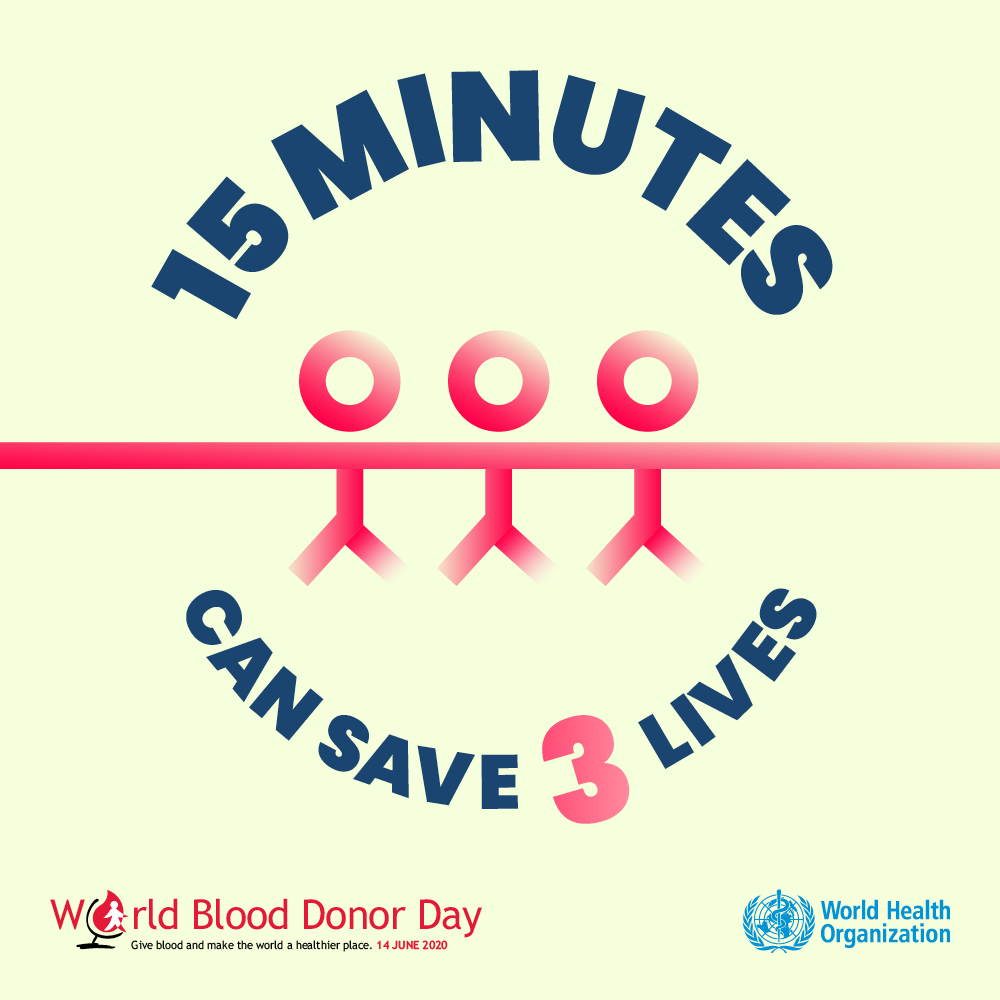 The detailed objectives of this year's campaign are to:
celebrate and thank individuals who donate blood and encourage more people to start donating

raise wider awareness of the urgent need to increase the availability of safe blood for use wherever and whenever it is needed to save a life

demonstrate the need for universal access to safe blood transfusion and provide advocacy on its role in the provision of effective health care and in achieving universal health coverage

mobilize support at national, regional, and global levels among governments and development partners to invest in, strengthen, and sustain national blood programmes.
International organizations, including the World Health Organization, the International Federation of Red Cross and Red Crescent Societies, the International Federation of Blood Donor Organizations and the International Society of Blood Transfusion, and others are continually collaborating to work in close collaboration so to provide guidance and support to their membership in this availability of safe blood for all mission.
Let's donate blood and save peoples of the world.
Also, on this day WHO calls the nation's government to take action including national health authorities and national blood transfusion services to provide adequate resources and put in place systems and infrastructures to increase the collection of blood from voluntary.
Most people who are in good health condition can give blood, however, health authorities have established some basic requirements one needs to fulfill in order to become a blood donor. By the established basic ligibility guidelines, persons between the age of 18 and 65, having a weight of at least 50 kg and not currently infected by a cold, flu, sore throat, cold sore, stomach bug, HIV (AIDS virus), or any other infection can donate blood. If a person has recently had a tattoo or body piercing they cannot donate for 6 months from the date of the procedure but in the case of piercing from a registered health professional and any inflammation has settled completely, they can donate blood after 12 hours.
Furthermore, a person who does not meet the minimum haemoglobin level can not also donate blood, and to measure the haemoglobin level a test will be administered at the donation site.
In case of women at pregnancy and breastfeeding stage, they can not donate blood for at least 9 months (as for pregnancy) and 3 months after if the baby is significantly getting most of his/her nutrition from solids or bottle feeding.
To reduce the shortage of blood donors and the required blood, we can become a blood donor today and also encourage your friends and family to become regular blood donors. An increase in the number of blood donors will sure make the world a healthier place.
Through the campaign, WHO calls on more people all over the world to become life-savers by volunteering to donate blood regularly.
Due to the current ongoing COVID-19 pandemic around the globe, WHO will run World Blood Donor Day virtually this year.