To inspire and raise awareness to the world about asteroids by conducting educational programs; make them understand about the role of asteroids on the process of formation of our solar system, how the resources of asteroids are being used and can be used for future exploration, and how can we protect our planet from asteroid impacts in future a group of scientists and scientific persons first initiated a day as an Asteroid Day in 2014.
Later United Nations General Assembly started 30 June as an International Asteroid Day in order to observe each year at the international level. This day was chosen to mark the anniversary of the 1908 Siberian Tunguska impact. Tunguska event occurred near the Podkamennaya Tunguska River in Yeniseysk Governorate (now Krasnoyarsk Krai), Russia, on June 30, 1908, and is considered the most harmful known asteroid-related event on Earth in the history.
Dr. Tom Jones, NASA astronaut and an Association of Space Explorers said, "On Asteroid Day, we share the latest information on the search for near-Earth asteroids that might pose a threat to our planet and discuss the space technologies we might apply together to help prevent a cosmic disaster. I'm especially interested in the joint NASA-ESA programs DART and HERA to demonstrate how we can deflect a near-Earth object."
Asteroid Day was first co-founded by scientific community including astrophysicist and lead guitarist of music band QUEEN- Dr. Brian May including President of B612 Foundation- Danica Remy, Apollo 9 Astronaut- Rusty Schweickart, and filmmaker- Grig Richters in 2014 and it was officially launched as Asteroid Day on December 3, 2014. Later in 2016, the United Nations officially designated Asteroid Day as the international day of awareness and education about asteroids.
Initially, in 2014, more than 200 astronauts, scientists, technologists, artists, and members of the scientific community including Richard Dawkins, Bill Nye, Peter Gabriel, Jim Lovell, Apollo 11 astronaut Michael Collins, Alexei Leonov, Bill Anders, Kip Thorne, Lord Martin Rees, Chris Hadfield, Rusty Schweickart, and Brian Cox co-signed the Asteroid Day Declaration.
Dr. Brian May said, "Asteroid Day was created to encourage the public and governments to learn more about asteroids, the origin of our Solar System, and to support the resources necessary to find and deflect asteroids."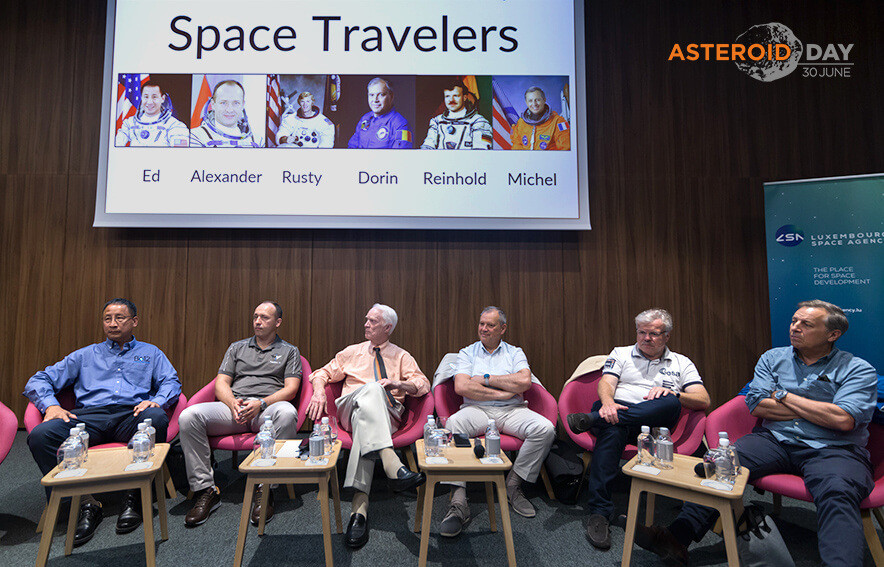 To gather public support for asteroid education and call on governments to accelerate the funding of asteroid discovery programs they drafted and released a petition.
Today, the initial petition named the '100X Asteroid Declaration' has already been signed by hundreds of prominent individuals around the world, including leaders in science, technology, and business, and more than 125 astronauts.
Ruy Pinto, Chief Technology Officer at SES said, "SES has been supporting Asteroid Day for several years, and we are proud to once again join efforts with other partners on this campaign to enable raising awareness about asteroids and space." Pinto added, "Building expertise around topics like these certainly benefits current and future generations, contributing to a better understanding of the universe we live in. We look forward to broadcasting this story to everyone this year!"
Though prior years thousands of independent physical events were organized around the world, this year due to global pandemic - COVID19, Asteroid Day events will be conducted digitally.
This year, Asteroid Day 2020 event will take place on all five continents and local independent programming will happen based upon local governmental guidance.
About the event of 2020, Dr. Brian May explained, "We have all seen how unprepared the human race was, faced with a pandemic. An asteroid strike is just as real. The consequences could be as serious. We regard it as our duty to make sure we are prepared to deal with the consequences, on an international level, and also to do our utmost to learn how to prevent such an event, by finding and deflecting potential impactors. That is what Asteroid Day is all about."
The Asteroid Foundation has programs like Asteroid Day global programs, including Asteroid Day LIVE, Asteroid Day TV. Asteroid Day LIVE, which debuted in 2017 is the only general public global conversation about asteroids. This year the Asteroid Foundation launch Asteroid Day TV 2020 on 1 June 2020 working side-by-side with Discovery Science, TED, IMAX, BBC, CNN, the European Space Agency (ESA), the European Southern Observatory (ESO) and other educational content producers.
Global partners include the Association of Space Explorers, B612, OHB SE, SES, BCE, EC GROUP, and Luxembourg Space Agency.