Schematic of the atmospheric water irrigation based on super moisture absorbent gels (SMAG) for sustainable agriculture. Image © Xingyi Zhou, Panpan Zhang, Fei Zhao, et al.
Water accounts for the basic environmental factor for agriculture food production including human existence. Currently, drylands account for over 40% of the earth's land surface, including 45% of the global agricultural land and factors like climate change and anthropogenic contamination exacerbate the desertification, exposing the agricultural production to the threat of water deficit. Scientists and activists from different regime are continually exploring varied possibilities to reduce climate change and also to increase the water resources of the Earth, however, not enough.
Among such, one possibility is atmospheric water harvesting system. This system (atmospheric water irrigation) can be utilized regardless of the geographical and hydrologic conditions.
And accordingly, a team of researchers from the University of Texas at Austin, Austin, designed a super moisture absorbent gels (a type of soil combination), named super moisture absorbent gels (SMAG) soil (SMAG-soil), that can pull water from the air and distribute it to plants. This innovative technique could expand the map of farmable land around the globe.
This is not the first time researchers are exploring the atmospheric water system. For instance, atmospheric water harvesters (AWHs). This method is passive to obtain water from the air, however, such technology holds the promise for the energetic sustainability of agriculture by developing solar-powered and distributable systems that can provide water without the need for centralized water and power supply. This system also favours the condition of sandy soils in drylands that holds the poor water holding capacity.
In this new research by the team, they reported a SMAG-modified soil (SMAG-soil) to enable passive atmospheric water irrigation and solar-powered environmental humidification in a sustainable agricultural system.
---
Sample fabrication
For the fabrication of SMAG, they mixed and purged Nisopropylacrylamide monomers (56.7 mg), N, N-tetramethylenediamine (1 μL) and deionized (DI) water (1 mL) with nitrogen for 10 min. Then chemical like N, Nmethylenebisacrylamide solution, ammonium persulfate solution (APS) and PPy-Cl solution were added and polymerization was carried out for 12 hours. To remove the unreacted monomers, then obtained gel was immersed in cold water (5 0C) and hot DI water (80 0C) alternately for three hours. Such steps were carried for three times.
---
The SMAG can liquefy moisture of ∼4 g water per gram of corresponding fully dried sample at 90% relative humidity (RH). It can also release liquid water without ionic solutes that may break the osmotic balance of plant roots when being heated to ∼35 °C because of its interpenetrating polymer network composed of hygroscopic polypyrrole and thermoresponsive poly(N-isopropylacrylamide).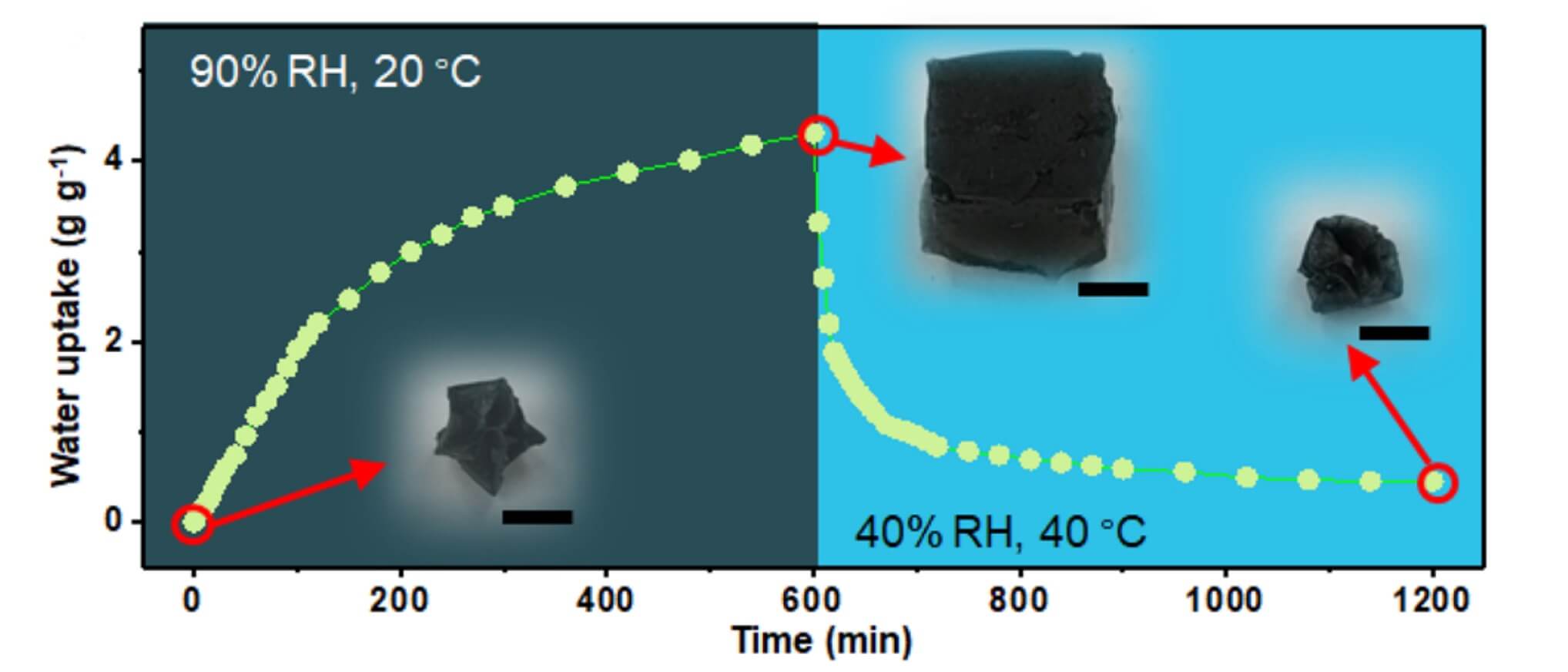 SMAG-soil composed of uniformly mixed micro-particles of SMAG and soil can harvest water from the air and store water in the gels under a cool and moist condition, which usually appears in the drought regions at night.
Upon exposure to moisture at 90% RH and 20 °C, the SMAG-soil presents nearly two orders of magnitude higher than that of the sandy soil.
Further, to assess the holding capacity, fully hydrated SMAG-soil and sandy soil samples were dried at 40% relative humidity and at a temperature of 40 °C. They obtained that the SMAG-soil can maintain ∼40% water content after four weeks, while the sandy soil lost 80% of the contained water within just one week.

Upon a cool and moist environment, the SMAG-soil was exposed to the open air to capture moisture from the atmosphere. During the hot daytime with relative low RH condition, the SMAG released water to the soil directly and keep evaporating contained water to the environment to stabilize the RH.
Research work can be found here.