Colorized scanning electron micrograph of an apoptotic cell (tan) heavily infected with SARS-CoV-2 virus particles (orange), isolated from a patient sample. Image credit: NIAID
It's been almost seven months that the whole world is being floored by the coronavirus, virus that causes COVID-19. Though no one can give a viable estimate of the time when we can get the cure vaccine of COVID-19, its requirement has long been an urgency. Different biotech companies and research institutes are working 24/7 behind the clock to push the limitations and get the curing agent of the global pandemic - COVID-19. For instance, Gilead already announced results from the phase III trial of its COVID-19 potential drug - Remdesivir, Novavax, Inc. had already entered into a phase 1/2 of COVID-19 vaccine, a vaccine candidate at the Oxford University's COVID-19 Vaccine Centre is in its phase II, and another vaccine candidate called STI-1499 is having its test at Sorrento Therapeutics.
Among all search of the COVID-19 vaccine, a biotech company, Moderna also holds a distinctive place. Moderna is an American biotechnology company founded in 2010 and particularly work on designing new medicines based on messenger RNA or mRNA. Likewise, they are working entirely being based on mRNA research to develop a vaccine of COVID-19 and they already leaped a step ahead.
On July 14, 2020, Moderna announced interim results from phase 1 Study of its mRNA vaccine against COVID-19, and the result was published in The New England Journal of Medicine. The mRNA vaccine candidate of Moderna is mRNA-1273 and the intent of phase 1 study of mRNA-1273 was initiated on Jan 13, 2020. They have finished the work of sequence selection to vaccine manufacture only on 25 days and the batch proceeded to analytical testing.
The Moderna's COVID-19 vaccine candidate- mRNA-1273, encodes the stabilized prefusion SARS-CoV-2 spike protein.
On Feb 24, 2020, Moderna shipped the first clinical batch of mRNA-1273 to the National Institutes of Health (NIH) for use in their Phase 1 clinical study and on March 16, 2020, a total of 63 days from sequence selection to first human dosing, NIH announced that the first participant in its Phase 1 study of mRNA-1273 was dosed. Gradually Moderna COVID-19 vaccine research team tested mRNA-1273 by varying the dose of the vaccine that the volunteer participants get. The final three dose cohorts were 25 µg, 100 µg, and 250 µg.
The phase 1 study was conducted on three different age and dose groups. They conducted an open-label trial of 45 healthy adults, age between 18 to 55 years. Adults received two vaccinations, 28 days apart, with mRNA-1273 in a dose of 25 μg, 100 μg, or 250 μg. There were 15 participants in each dose group.
The phase 1 result shows that mRNA-1273 was generally safe and well-tolerated and no serious adverse events were reported through Day 57.
Enrollment of participants for phase 2 study of mRNA-1273 has already been completed. Phase 2 study is planned among 600 participants with younger adults n=300 and older adults n=300.
Also, phase 1 study includes a group of 30 older adults (ages between 56-70) and 30 elderly adults (ages 71 and above). The result of the study is expected to be published once available.
Though safe at some level of dose they also report adverse events on the participated volunteers which are;
Three participants who are given 250 µg dose level report one or more severe events.

Following the second vaccination at 100 µg, 80% of participants reported fatigue, 80% chills, 60% headache, 53% myalgia, however, all were transient and mild or moderate in severity.

100% of the participants at 100 µg dose level reported pain at the injection site which is also considered transient and mild or moderate in severity.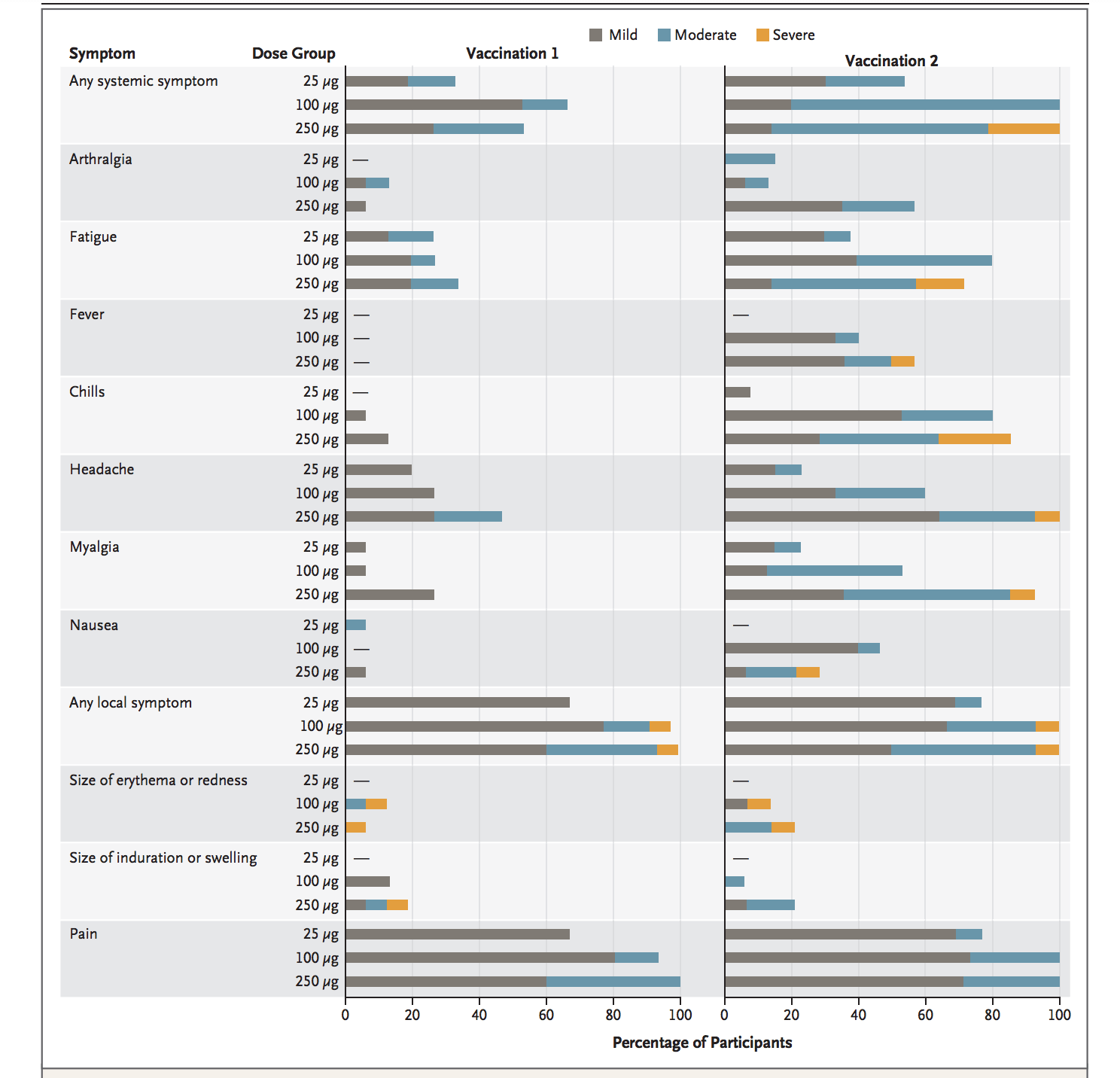 mRNA-1273 induced binding antibodies to the full-length SARS-CoV-2 Spike protein (S) in all participants after the first vaccination, with all participants seroconverting by Day 15. Spike protein (S) is all responsible for transmitting and reproducing the coronavirus inside the host cell as this makes the path to enter the coronavirus. The number of binding titers dependent on the amount of dose that the participants were given. Titer is a way of expressing the concentration of the antibodies and is a laboratory test in which a blood sample is taken and tested for measuring the presence and amount of antibodies in the blood. Here titers refers to binding titers which means antibody present in the body.
Phase 3 study with 30,000 participants is expected to begin on July 27, 2020.
The mRNA-1273 vaccine successfully induced an anti-SARS-Cov-2 immune response in all the participants, though most effective in 100 µg dose level, these findings support further development of this vaccine.