On December 31, 2019, the WHO representative of China was informed that a new pneumonia case was caused by an unknown aetiology (unknown cause) detected in Wuhan City, Hubei Province of China. Recently until January 3, 2020, a total of 44 patients with pneumonia of unknown aetiology was reported to WHO among which 11 were severely ill. On January 12, 2020, China was able to share the genetic sequence of coronavirus, the virus that causes disease COVID-19 and on January 13, 2020, the first case outside of China was recorded in Thailand.
---

Read: January Timeline of Coronavirus
---
Subsequently, after then, different nations and scientific institutions with different scientific teams have been examining the coronavirus and trying to get its final cure vaccine. Gradually, the coronavirus spread throughout the globe and already affected 213 countries and territories with total cases 30,986,826 and the total death count of 961,400, bearly leaving the unaffected nation and place.
Now its been almost nine months that the entire globe is in the certain level freezing state; lockdown, as a preventive measure to curb its spread. Wearing a mask and maintaining the social distancing has been made a compulsion. These all are the preventive measure and what we need in the final stage to return to our normal situation is the cure vaccine and scientific communities are working in it behind the clock.
Efforts to manufacture the leading candidates, at risk, are gearing up, however, the process takes some time.
Though currently there are about 165 different vaccines for COVID-19 being developed around the world, here, we will be highlighting and discussing COVID-19 vaccines that are in the leading, promising phase- phase 3, of the clinical trisls.
---
1. Sputnik V, Russia
This vaccine of COVID-19 is the first vaccine that has been authorized to be used as the cure vaccine, yet its topic of safety and authorization is being controversial and widely debated. This vaccine was designed by the Gamaleya Research Institute of Epidemiology and Microbiology which was registered on 11 August 2020 by the Russian Ministry of Health and subsequently, they approved the vaccine for human use.
The medical name of the vaccine is Gam-COVID-Vac whereas the trading name is Sputnik V.
Researchers are working on different types of vaccines for COVID-19 like vector, inactivated, nucleic acid-based (DNA and mRNA) and recombinant protein-based vaccines and this Russian adenovirus vaccine- Sputnik V, is a vector-based vaccine.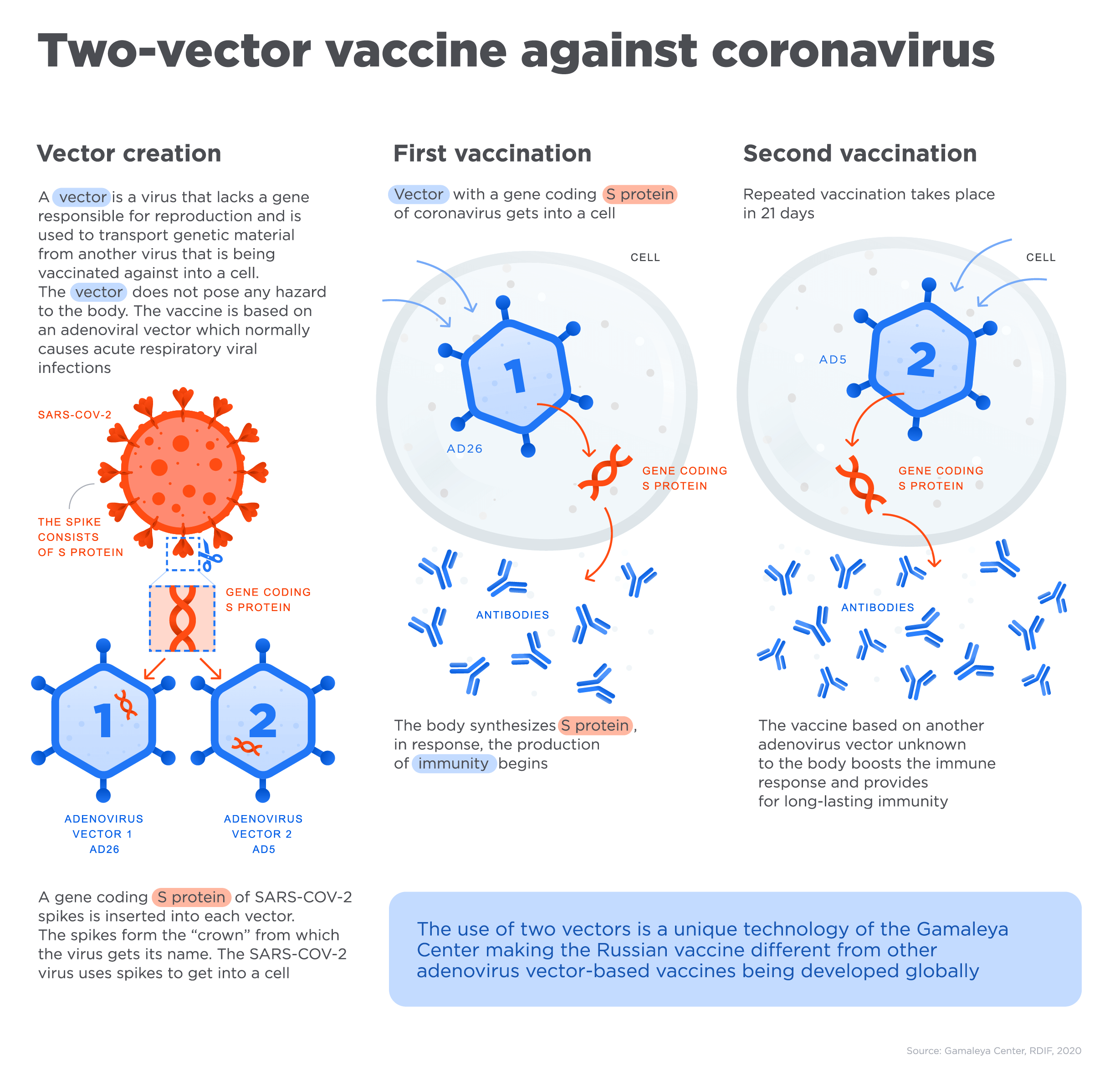 Here, in the vector-based vaccine, 'vectors' are the vehicle model which can induce a genetic material from another virus to a cell. In the treatment process by vector method vaccine, the gene from adenovirus, which causes the infection, is removed while a gene with the code of a protein from another virus spike is inserted. This inserted element is safe for the body but still helps the immune system to react and produce antibodies, which protect us from the infection. Hence, the Sputnik V vaccine is an immune vaccine that helps to increase the human immune system.
Thanks to the technological platform of adenovirus-based vectors that makes it an easier and faster way to create new vaccines by modifying the initial carrier vector with genetic material from new emerging viruses that helps to create new vaccines in a relatively short time.
The main reason some tagged this vaccine 'not safe' is due to its procedure of trials that every vaccine has to pass prior to its wide human use. They claimed that Sputnik V has never been to its final stage trial and so never studied properly for, maybe, the upcoming negative effects of the vaccine. In between these controversies, the Russian government started its human use and industrial manufacturing. Though approved for human use, phase 3 of the clinical trial is being conducted.
However, long debated, phase 1 and 2 clinical trials of the Sputnik V vaccine have been completed on August 1, 2020. They claimed, on their report, that all the involved volunteers are feeling well, no unforeseen or unwanted side effects were observed and the vaccine induced strong antibody and cellular immune response.
---
2. AZD1222, United Kingdom
AZD1222, formerly known as ChAdOx1 nCoV-19, is another COVID-19 vaccine that is currently in its phase 3 clinical trial. AZD1222 is made from a virus, called ChAdOx1, which is a weakened version of a common cold virus (adenovirus) that causes infections in chimpanzees. This ChAdOx1 has been genetically engineered where the genetic material has been added to the ChAdOx1 construct, which is used to make proteins from the SARS-CoV-2 coronavirus called Spike glycoprotein (S). This protein is usually found on the surface of SARS-CoV-2 and plays an essential role in the infection pathway of the SARS-CoV-2 virus. The S-protein will use ACE-2 receptor for entering to the host cell and then replicated inside the host cell.
This vaccine is also a vector-based vaccine.
After the injection of AZD1222, the surface spike protein was produced and consequently, the immune system of the host body was found ready to attack the SARS-CoV-2 virus.
Some complications had arrived during the clinical trial of this AZD1222 vaccine. On 6 September, the standard review process triggered a voluntary pause to vaccination across all global trials to allow the review of safety data by independent committees and international regulators. The UK committee has concluded its investigations and recommended to the MHRA that trials in the UK are safe to resume.
---
3. CoronaVac, China
Another COVID-19 vaccine candidate is Sinovac LS or in general, CoronaVac, that is developed by a China-based leading provider of biopharmaceutical producers. This vaccine is currently in phase 3 of clinical trial and the reported results from phase 1 and 2 study showed good safety and immunogenicity in healthy adults aged 60 and above.
CoronaVac was tested on a total of 421 healthy adults aged between 60 to 89 years old in phase 1/2 clinical trial and they were given a randomized, double-blinded and placebo-controlled trial with two-dose immunization scheduled at 28-day intervals.
The trial showed that the CoronaVac appeared to be well tolerated for low, medium, and high dose groups and no serious adverse events have been seen.
According to the results, the medium dose was selected to enter into a phase 3 trial.
---
4. mRNA-1273, United States
Another COVID-19 vaccine that is currently in its third phase of the clinical trial is mRNA-1273 which was co-developed by the Cambridge, Massachusetts-based biotechnology company Moderna, Inc., and the National Institute of Allergy and Infectious Diseases (NIAID).
The Phase 3 study, also called the COVE (Coronavirus Efficacy) study, is expected to enrol more than 30,000 volunteers and is being conducted in collaboration with the National Institute of Allergy and Infectious Diseases (NIAID), part of the National Institutes of Health (NIH) and the Biomedical Advanced Research and Development Authority (BARDA), part of the Office of the Assistant Secretary for Preparedness and Response at the U.S. Department of Health and Human Services.
The efficacy analysis of the phase 3 study of mRNA-1273 will be done by an event-driven analysis based on the number of participants with symptomatic COVID-19 disease. The data will be reviewed by an independent Data and Safety Monitoring Board organized by NIAID throughout the study so they can monitor the safety aspects of the vaccine candidate.
The clinical batch was completed on February 7, 2020, and the participant was dosed on March 16, 2020, almost 63 days from sequence selection to Phase 1 study dosing. Then on May 12, 2020, FDA granted mRNA-1273 Fast Track designation. Later two groups - healthy adults ages 18-55 years (n=300) and older adults ages 55 years and above (n=300), were enrolled for the phase 2 clinical trial (completed the enrollment on July 8, 2020).
"We are pleased to have started the Phase 3 COVE study," said Stephane Bancel, CEO at Moderna. "We are grateful to the efforts of so many inside and outside the company to get us to this important milestone. We are indebted to the participants and investigators who now begin the work of the COVE study itself. We look forward to this trial demonstrating the potential of our vaccine to prevent COVID-19 so that we can defeat this pandemic."
---
5. BNT162, Germany
Biotech companies Pfizer Inc. and BioNTech SE are working together on the development of BNT162 vaccine candidates. The BNT162 program is evaluating at least 4 experimental vaccines, each of which represents a unique combination of messenger RNA (mRNA) format and target antigen and among those 4 candidate vaccines, messenger RNA vaccine candidate called BNT162b1 is in its leading phase, phase 3.
The phase 1/ 2 of the clinical trial was a randomized, placebo-controlled, observer-blinded study which evaluated the safety, tolerability, and immunogenicity of escalating dose levels of BNT162b1. The participants received two doses, 21 days apart, of a placebo, 10 µg or 30 µg of BNT162b1, or received a single dose of 100 µg of the vaccine candidate. During the phase1 and 2 study, no serious adverse events were reported and that led them to the phase 3 study.
While BNT162b2 remains under clinical study and is not currently approved for distribution anywhere in the world, assuming its clinical success, Pfizer and BioNTech are on track to seek regulatory review for BNT162b2 as early as October 2020 and, if regulatory authorization or approval is obtained, they have already planned to supply up to 100 million doses worldwide by the end of 2020 and approximately 1.3 billion doses by the end of 2021.
---
6. COVAXIN, India
COVAXIN is India's first indigenous COVID-19 vaccine designed by Bharat Biotech in collaboration with the Indian Council of Medical Research - National Institute of Virology. For the trial, the SARS-CoV-2 strain was isolated in National Institute of Virology, Pune and was transferred to Bharat Biotech.
On June 29, 2020, COVAXIN has already got authorization from the Drug Controller General of India - CDSCO, Ministry of Health & Family Welfare for Phase I & II Human Clinical Trials.
"We are proud to announce COVAXIN, India's first indigenous vaccine against COVID-19. The collaboration with ICMR and NIV was instrumental in the development of this vaccine. The proactive support and guidance from CDSCO have enabled approvals to this project. Our R&D and Manufacturing teams worked tirelessly to deploy our proprietary technologies towards this platform."